Available Quantities/Flavors:


60 Fish Gels-Lemon




Supports cardiovascular and circulatory health*



Promotes a healthy immune response*



Supports a healthy metabolism and blood sugar levels*



Supports a positive mood and emotional well-being*



Promotes improved joint flexibility and mobility*



Fish gelatin soft gels are ideal for pesco-vegetarians

Ideal for pesco-vegetarians, ProOmega® in fish gelatin soft gels is a double strength EPA+DHA formula for more omega-3 benefits in fewer servings. For high intensity, therapeutic support for both body and mind, ProOmega is an excellent choice, containing 1100 mg EPA+DHA per serving.



Two fish gels daily, with food, or as directed by your health care professional or pharmacist. For intense support, take two soft gels with food twice daily.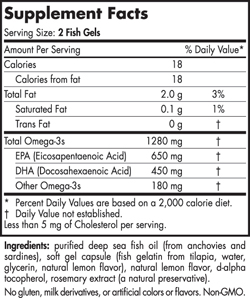 * These statements have not been evaluated by the Food and Drug Administration.
This product is not intended to diagnose, treat, cure, or prevent any disease.