Patient Education

These materials help patients understand the importance of omega-3 essential fatty acids for optimal health and wellness. Included here is information on why you should balance your intake of essential fats, and how these fats benefit different systems within the body, including the heart, eyes, back and neck, skin, and more.

You must be a registered practitioner and logged in to access this material.

Immune Response Poster
This illustrated desk reference poster simplifies the effects of dietary fats—including omega-3 on the body's natural immune response. It also compares the different benefits of essential fats eicosapentaenoic acid (EPA), docosahexaenoic acid (DHA), and the unique omega-6 gamma-linolenic acid (GLA).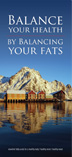 Balance Brochure
An excellent introduction to omega nutrition and a handy resource for patients, Nordic Naturals Balance Brochure educates on the importance of balancing essential fatty acid intake. It covers the major health benefits of specific essential fats, and provides answers to commonly asked questions about supplementation.
Brochure Series:
Fish Oil for Your Health
Nordic Naturals' Fish Oil For Your Health series provides accessible, non-technical brochures on the health benefits of omega-3s EPA and DHA. These pamphlets educate on omega-3s' benefits to specific conditions and functions, including the physiology of the back and neck, eyes, skin, heart, cognition, as well as pregnancy and fitness.